Introducing our university of applied sciences
From Informatics to International Business and Economic Diplomacy
One thing in advance: Our bachelor and master degree programmes and continuing education courses are particularly practice-oriented and have a strong international focus. There are many things you can study with us - but we concentrate on 4 major focus areas:
Business
Digitalisation & engineering
Health
Life Sciences
Virtual reality for you to try out: The eVRyLab
A highlight of our Open House is our eVRyLab - one of the most modern VR labs in Europe. With this virtual practice room, we have succeeded in creating a highlight in the area of movement in virtual space and have thus become a pioneer in the field of digitalisation in Lower Austria.
At the Open House you can immerse yourself in virtual worlds and get to know the latest technologies and application examples.
Our Open House: Get to know our university of applied sciences
The Open House is our big open day. You shouldn't miss it - because you' ll certainly find it easier to choose your perfect degree programme after the event.
Don't worry – the English degree programmes will be presented in English. In addition, our students and faculty will be more than happy to answer your questions and guide you around campus.
A few reasons why:
Find out more in personal conversations with students and lecturers
Take part in our laboratory exercises and practical exercises
Get the best tips for the application and admission process
Get to know our IMC Campus Krems on a guided tour with our CEO
Explore Krems - your temporary home - and inform yourself about leisure time, sports and housing
New degree programmes at IMC Krems
*
vorbehaltlich der Genehmigung durch die AQ Austria
*
subject to approval of AQ Austria
Our degree programmes at a glance
10 good reasons to study at IMC Krems
Internationality, practical orientation & personal atmosphere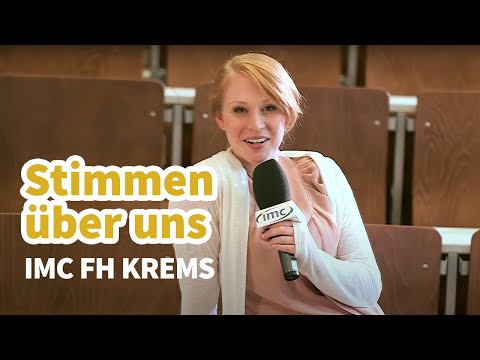 Testimonials
Viktoria Baric
Student Gesundheits- und Krankenpflege
What fascinated me most about my studies in health care and nursing was that half of my studies consisted of work experience. I am sure that the theory has to be learned, but through the internships you understand the meaning of what you have learned in real life.
Fabian Friedl, BSc.
Graduate Medical and Pharmaceutical Biotechnology
I'm a very ambitious and inquisitive person. So this programme was perfect for me. Over the three years it had a very positive influence on me, intensified my interests and enabled me to identify a clear direction for my career. I got a job offer straight after completing my bachelor's degree.
Verena Dengg, BA
Graduate Export-oriented Management
The great things about IMC Krems are the mix of different people and backgrounds, the degree of support offered by faculty members, consensus-based decision making, and that you aren't just an enrolment number – people actually know your name. My particular highlights of studying at the IMC Krems: the international focus, lots of colleagues from overseas, plenty of opportunities to learn languages, the exchange semester and the practical training semester.
Herwig Weissinger
Student Applied Chemistry
IMC Krems has an excellent reputation and a very international outlook, with students from all over the world. This makes it really special. And the Applied Chemistry programme is also an exceptional degree because of the focus on application – its practical design is especially attractive in the context of chemistry.
Melanie Lick
Student Betriebswirtschaft für das Gesundheitswesen
A degree programme at a university of applied sciences is not comparable with a school, as the courses and lectures vary in time. The existing structures should facilitate the completion of studies within the minimum amount of time. I also find it convenient to know which subjects I will be studying in which year - this is a great way to prepare myself.
Stay up to date
You do not want to miss any news or deadlines? Sign up for our newsletter.
Sign up for our newsletter
#kremsgenial, #proudtobestudent or simply #imckrems? Get to know our IMC community on Instagram!
Follow us on Instagram
[Translate to Englisch:]
Open House at IMC Campus Krems
Welcome on Campus! Our Open House will take place at the IMC Campus Krems, Wing G.1.
IMC Campus Krems
---
Der IMC Campus Krems ist ein Zentrum für Studium und Forschung. Familiäre Atmosphäre, modernste Infrastruktur und großzügige Grünflächen zeichnen den Standort aus.
IMC Campus Krems is an exceptional centre of learning and research thanks to its friendly, welcoming environment, state-of-the-art facilities and expansive green spaces.
Fragen zum Studienangebot?
Studienberatung
---
Sie haben Fragen zu den Zugangsvoraussetzungen, zum Aufnahmeverfahren und Co? Unsere Studienberatung hilft Ihnen gerne weiter.